Walking with nature
Humans are at the top of the ecological pyramid, but unfortunately, many of our decisions show a disconnect with how we affect and influence the ecological pyramid as a whole. As a result, many of our industrial processes feed a negative loop that threatens the stability of our surrounding environment.

Humans regularly produce large amounts of nutritionally abundant waste that accumulates in rivers and on the ocean floor, but as it stands now, this waste is often in a state where it can't be naturally broken down any further due to low oxygen levels. If the waste on the bottom of the ocean floor is oxygen rich, bacteria will thrive and begin breaking the organic matter down further. The nutrition from the waste combined with the increased oxygen levels helps the bacteria population increase and provides a more stable food source for larger organisms up the food chain.

Previous methods for sending oxygen to the ocean floor were not only logistically difficult, but also had substantial energy demands and high implementation costs. The oxygenated nanobubble technology developed by Anzai Kantetsu Co., LTD. is not only logistically simple, but is also cost and energy efficient. When properly implemented, the nanobubble generators will actively spread oxygenated nanobubbles across the ocean floor and help facilitate the breakdown of nutrient rich waste buildups while simultaneously fostering a more stable ecological pyramid.

For the sake of walking with nature and promoting continued environmental sustainability, it is quintessential that these sorts of challenges and problems be addressed. Businesses and governments must be willing to take responsibility for how they interact with the environment and actively look for innovative ways to positively contribute to it. It is for this reason that our company has pushed technological boundaries and strived to promote research that seeks to further improve and innovate natural environmental conditions.
Pond purification via use of nanobubbles
The pond was equipped with a nanobubble generator and then observed for two weeks.
Slime deposited at the bottom of the pond decomposed, and the pond water purified. Carp in the pond then laid eggs, with young carp then being observed swimming around in the pond.

Trial sea area purification in Yokohama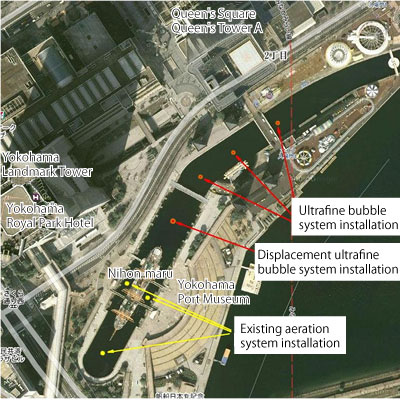 The Nihon-maru site is located in a recess on the coastline, and typically lacks of oxygen.
A normal aeration system is currently used to supply more oxygen. However, the annual expense of the electricity expense has increased and the effect inadequate.
A nanobubble system was therefore installed and the attempt made to ensure a better supply of oxygen in thereby restoring the environment.

Trial lake environment purification (as reported by the mass media)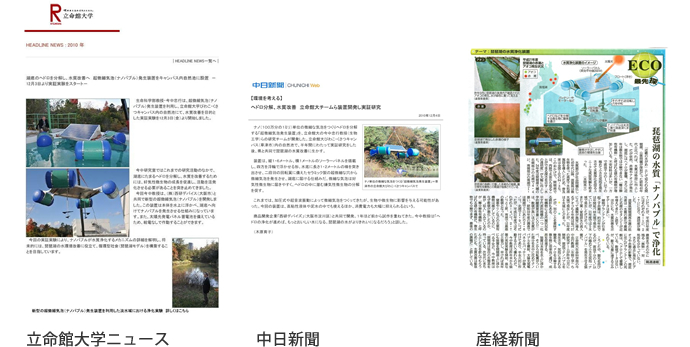 Experiment at Hakkeijima Sea Paradise - Nikkei Newspaper -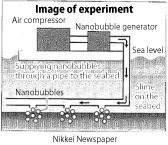 Water purification via use of ultrafine bubbles
Activated microorganisms help decompose slime.
Both greater business efficiency and a contribution to society were realized at 20% of the conventional expense posed by the electricity.

Download more detailed information